Born in 1943 Bad Salzdetfurth, germany.

From 1964 to 1972 Rosenbach studied sculpture at the Kunstakademie Dusseldorf; 1970; she became a master student of Prof. Joseph Beuys.

In 1971 Rosenbach produced her first videoworks and first performance-works in 1972. Since than, media works with video/audio, photography and performance as well as media- installations were her professional tools.

In the mid-seventies of the last century, her artwork was highly interesting as dealing with topics like traditional role models of women. This context in her work then helped to formulate an identity of women from a feminist perspective. In 1975 she founded a workshop "school for feminist creativity" in Köln and called herself a feminist artist She then performed a series of spectacular media performances at various international art-institutes.

Ulrike Rosenbach became a most renowned international known media-artist of her generation from Germany. In 1977 her installation- and performance - work was exhibited at documenta 6 in Kassel/germany and 1987 at documenta 8. For her work Rosenbach was rewarded with various art-awards.

After 1985 Rosenbach`s artwork concentrated on media-installation, media-sculpture, drawing and mixed media/photography.

From 1989 – 2007 she held a professorship "for new medias in the arts" at Hochschule der Bildenden Künste Saar in Germany. In that frame, she also was curator of a series of art- projects for and with her students. She recently initiated a net-archive for women-media-artists with her students: www.bild-rausch.com

Today she lives and works as a freelance artist in the area of Köln/Colon in Germany.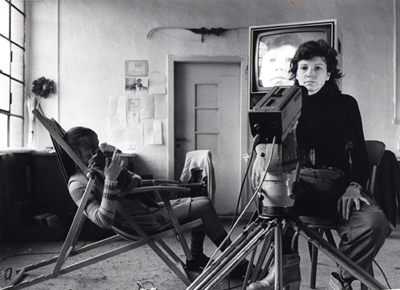 Fotonachweis:
Klaus vom Bruch, 1976


ULRIKE ROSENBACH (born 1943) has been creating experimental works with photography, performance video and multimedia installations since 1972. Rather than seeing video as a documentation medium, ULRIKE ROSENBACH harnesses it for innovative and artistic purposes. In her "Action/Performances" and "Video Live Actions", she was one of the first artists – of any gender – to work with live video cameras. She saw the video camera as the perfect medium for defining her role as a female artist, incorporating herself as the subject of her own art while calling into question traditional female depictions at the same time. ULRIKE ROSENBACH's themes are as highly topical and relevant as ever today. ULRIKE ROSENBACH

As one of the earliest performance and media artists, ULRIKE ROSENBACH has been creating innovative works with photography, video and multimedia installations since the late 1960s. As early as 1969, as a master pupil of Joseph Beuys at the Kunstakademie Düsseldorf, she founded a group of female artists with connections to the women's liberation scene in the United States. In 1970, upon the invitation of Lucy Lippard, Rosenbach participated in the first major US exhibition consisting solely of women artists, 1000 Miles from Here. In 1973, she appeared in her first live video performance in New York. This was followed by an appointment as lecturer in Feminist Media Art at the California Institute of the Arts (CalArts) in Valencia, California. John Baldessari was also teaching at CalArts at that time. During this period and in this context, she produced important groups of works on ideal feminine images and their trivialisation in the media. The themes that Ulrike Rosenbach explored are still current and highly relevant today. Her experimental works were presented at international exhibitions as well as at the documenta 6 (1977) and documenta 8 (1987). She was awarded the Gabriele Münter Prize in 2004. In 2012, she was recognised for her life's work with the Künstlerinnenpreis NRW (Women Artists' Prize North Rhine-Westphalia).
ULRIKE ROSENBACH is one of the most important representatives of the feminist avant-garde and a pioneer of performance and video art. Critical and perceptive, precise and systematic, self-assured and humorous, she has explored the stereotypes and typifications of female identity for decades and examined existing role models in this connection. Both with regard to form and to the questions it asks and the stance that it takes, ROSENBACH's experimental work has a major influence on the works of new generations of artists, regardless of gender.

ULRIKE ROSENBACH studied sculpture at Düsseldorf Art Academy; in 1970, she became a master student under Joseph Beuys. She produced her first video works in 1971 and her first performances the following year. Since then, her media of choice have been video/audio, photography, performance and media installations. In the mid-1970s, ULRIKE ROSENBACH focused above all on traditional role models for women. In 1976, she founded the School for Creative Feminism in Cologne. ULRIKE ROSENBACH took part in documenta 6 and documenta 8 and held a professorship for New Artistic Media at HBKsaar in Saarbrücken between 1989 and 2007.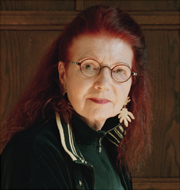 Fotonachweis:
© Renate Brandt, 2011